Known for its durability and high performance on muddy roads, the Toyota Hilux is a highly dependable off-roader that provides quality and not just quantity in terms of better engine output, quality car-like interior, and excellent off-road driving on any terrain . 
If you have got the Toyota Hilux on your purchase list, then you are on the right track. However, at "XXXXX," we advise drivers to go for the latest models of the Hilux series for a much more advanced and outstanding driving activity.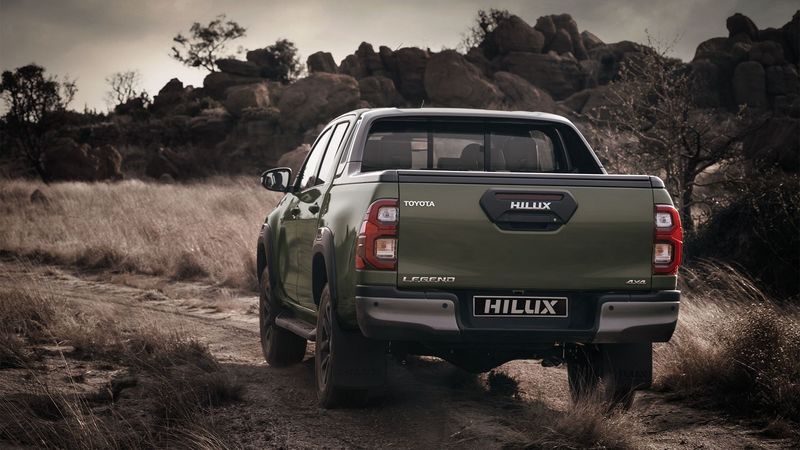 Photo courtesy: Toyota
With the newer models like the Invincible and Invincible X, the Hilux has gotten sharper than before. Their engines mate with either automatic or manual gearboxes.
The automatic gearboxes offer optimum performance than most manual gearboxes in the sense that they do a great job by delivering timely shifts through the gears, especially during low speeds, and aren't too twitchy.
But we will still commend the manual gearboxes for their ability to provide smooth driving at regular intervals and lesser fuel consumption.
The Hilux models offer three engine options, there is the 2.4-liter diesel engine, which you will find in all the new Hiluxes, and then the 2.8 liter and 3.0-liter engines. The 2.4 liter has more efficiency than the 3.0-liter engine and even produces 295lb ft of torque, which is higher than previous ones. Furthermore, the 4x4 automatic Hilux variants have a braked towing capacity of 3500 kg, competing with key rivals such as the Ford Ranger and their counterparts - the Hilux manual models.
Photo courtesy: Toyota
If you are choosing a Hilux with an automatic gearbox, you will get an estimated fuel economy figure of 36.2mpg, with CO2 emissions of 204g / km. However, the manual transmission gives a much nicer figure of 40.4 mpg and 185g / km, respectively, plus it is cheaper.
Generally, its 2.4-liter engine offers good productivity even though it can be quite noisy at the top end. It also calms down at a cruise, and it is more advanced than previous years.
The Hilux's sizable doors blow away wind noises at high speeds, and its mirrors offer good visibility of the road in any terrain. It also gives you a comfortable high driving position that enables you to have a broad view of the road ahead. It has a spacious cabin with enough seating area in the front and rear to accommodate taller passengers comfortably.
Thanks to the various upgrades, the Toyota Hilux now has improved steering, and it is weightier and more authentic than previous models, while it maintains a better ride comfort too. Although it doesn't run quite smoothly as an SUV does, it still comes closer than many other pick-up brands to fitting the SUV standards.
Newer models have a reworked suspension, and they come fully equipped with off-roading technologies such as hill descent control and a back differential lock, as well as a low-range gearbox. You can also switch from a two-wheel to four-wheel drive, depending on your choice. The Toyota Hilux is extremely capable off-road. It has the skills to overcome road obstacles and still keep its balance.
Another exciting thing about this pickup is that you get to choose from a couple of different drive modes. If you select the PWR mode, you will have a sharp throttle response, while the Eco mode smoothens it out and places the air condition in an eco mode that modifies the fan speed. You will also have a standard drive mode that offers average performance. However, neither the PWR nor Eco mode contributes any striking difference in the car's normal behavior.  
Photo courtesy: Toyota
Interior materials are of quality and better than previous Toyota Hilux models. Newer versions of the Toyota Hilux comes with a car-like interior to make you feel as though you are driving in an actual car. With such an interior, it comes closer to most SUV rivals but not quite close enough to genuinely compete with them.
The Toyota Hilux comes in three trim levels to grab. With the active entry-level model, you will have fitted 17in steel wheels, automatic headlights, air conditioning, Bluetooth connectivity, a cool box, and heated / electrically adjustable wing mirrors as standard. Most people going for this trim use it for commercial purposes. 
Upgrading to the Icon trim will give you a 4.2in touchscreen containing Toyota's Touch 2 infotainment system complete with reversing camera and DAB audio. To make things more fascinating, you will also find 17in alloy wheels, cruise control, descent control, and folding door mirrors. 
With the invincible trim, which delivers higher power output and torque, you will get amenities such as 18in alloy wheels, LED headlights, climate control, keyless entry, and Toyota's Safety Sense active technology.
You can get a Toyota Hilux for your heavy-duty workloads or commercial activities because this vehicle is not only tough on roads but also fast enough to provide timely drives. 
For more details, here's a short YouTube of the Toyota Hilux Invincible X - https://youtu.be/1-mzLhC5phU